Center for 
Jewish Studies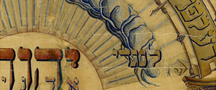 The Center for Jewish Studies hosts or co-sponsors lectures, exhibits, conferences, interdisciplinary dialogues, and colloquia. For more information, visit the Center for Jewish Studies website.
With 
Thanks
Helen Diller Family Endowment for Jewish Studies

We are deeply thankful to the Helen Diller Family Foundation, whose generous endowment continues to provide crucial support to Jewish Studies at UC-Santa Cruz. Continue»
Support 
Jewish Studies
Your gift to Jewish studies helps to support outstanding students and our nationally recognized program. Learn more or give today.